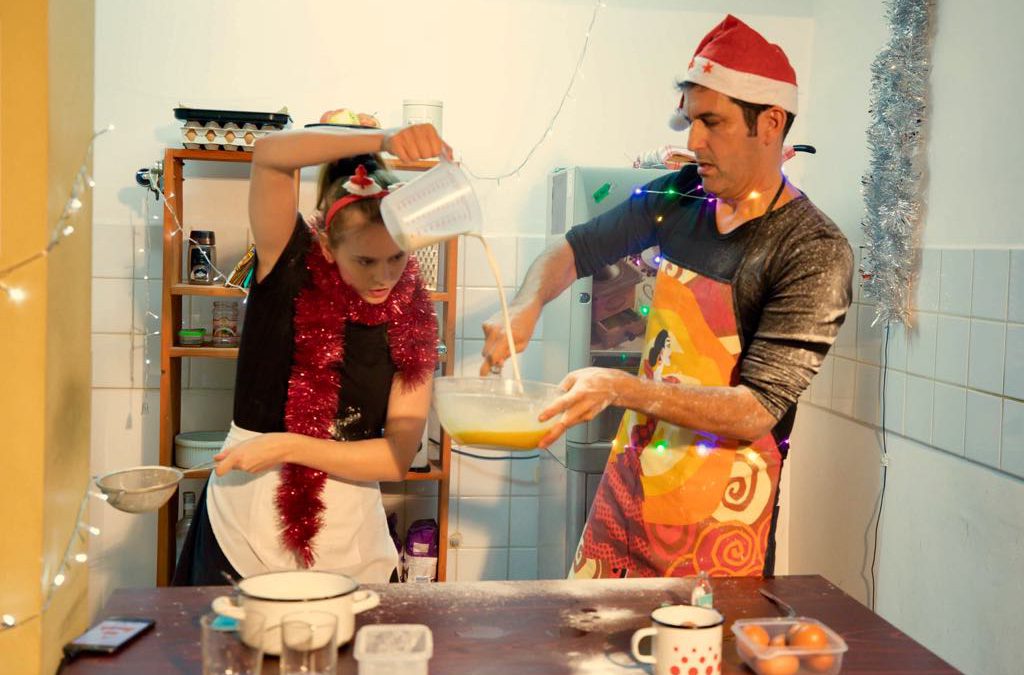 Minor Chefs – the cake
After doing research about different Transylvanian (Romanian and Hungarian) recipes we decided to bake a cake during the performance. It seems like they love cakes here! And the more layers it has, the better.
Here is one of the original recipes for the delicious Romanian apple cake "Prajitura Turnata cu Mere" that we used (for the performance we modified it a little to add it a personal touch):
Ingredients
Batter:
4 eggs, 300 g sugar, 120 ml oil (or butter), 180 ml milk, 350 g flour, 10 g baking powder, 1 tsp vanilla extract
Filling:
2 kg apples, 150 g sugar, 1 tsp cinnamon, Plus icing sugar for dusting
Directions:
Start by grating the apples. If they're too juicy, strain them a bit.
In a skillet on medium heat, cook the apples with the sugar until the juices are almost evaporated.
Add the cinnamon and leave to cool.
Preheat the oven to 180°
Using a mixer, beat the eggs with the sugar until the sugar is dissolved.
Add the oil and the vanilla extract and mix.
Mix the flour with the baking powder.
Add half of the flour mixture and half of the milk, then the other half of the flour mixture and the remaining milk. The batter should be similar to the one we use for pancakes.
In a buttered, medium cake tray covered with baking sheet, add half of the batter and bake it for 10 minutes.
Take the tray out of the oven, spread the filling over the batter and add the rest of the batter.
Bake for another 30-35 minutes or until the cake is golden brown on top.
Take the cake out of the oven, leave it to cool for a bit and dust with icing sugar.
Recipe in Romanian – Rețeta în română
Ingrediente
Aluat: 4 ouă 300 g zahăr 120 ml ulei 180 ml lapte 350 g făină 10 g praf de copt 1 linguriță de extract de vanilie
Umplutură: 2 kg de mere 150 g zahăr 1 linguriță de scorțișoară Zahăr pudră pentru decorat
Mod de preparare Radeți merele pe răzătoarea mare. Dacă sunt prea suculente, stoarceți-le un pic. Într-o tigaie la foc mediu, gătiți merele cu zahărul până când sucul de la mere este aproape evaporat. Adăugați scorțișoara și lăsați compoziția deoparte până pregătiți aluatul. Preîncălziți cuptorul la 180 ° C. Folosind un mixer sau un tel, bateți ouăle cu zahărul până când zahărul este dizolvat. Adăugați uleiul și extractul (sau esența) de vanilie și amestecați. Amestecați făina cu praful de copt. Adăugați jumătate din amestecul de făină și jumătate din lapte, apoi cealaltă jumătate din amestecul de făină și laptele rămas. Aluatul ar trebui să fie foarte moale, puțin mai gros decât cel de clătite. Într-o tavă de prăjitură medie, unsă cu unt și tapetată cu foaie de copt, adăugați jumătate din aluat și coaceți timp de 10 minute. Scoateți tava din cuptor, întindeți umplutura peste aluatul pe jumătate copt, apoi turnați și restul aluatului. Coaceți pentru încă 30-35 de minute sau până când prăjitura cu mere este de culoare maro aurie. Scoateți prăjitura din cuptor, lăsați-o să se răcească puțin și pudrați cu zahăr.
The recipe is copied (almost identical) from here: http://www.deliciousromania.com/recipes/desserts/apple-and-raisins-tray-cake-prajitura-turnata-cu-mere/
Enjoy the baking and the cake!
Minor Chefs
Something's cookin' in Transylvania…
Performance by Rodrigo Pardo and Sanna Toivanen
Production: Adél Püspöki
Collaboration: Aletta Zselyke Kenéz, Otília László, Irisz Kovacs, Paula Dalea, Nicoleta Butnaru, Andreea Ioana Suciu, Traian Penciuc
Technical staff: Emil Muresan, Gombocz Loránd-Levente, Moréh Zsolt, Török Hunor