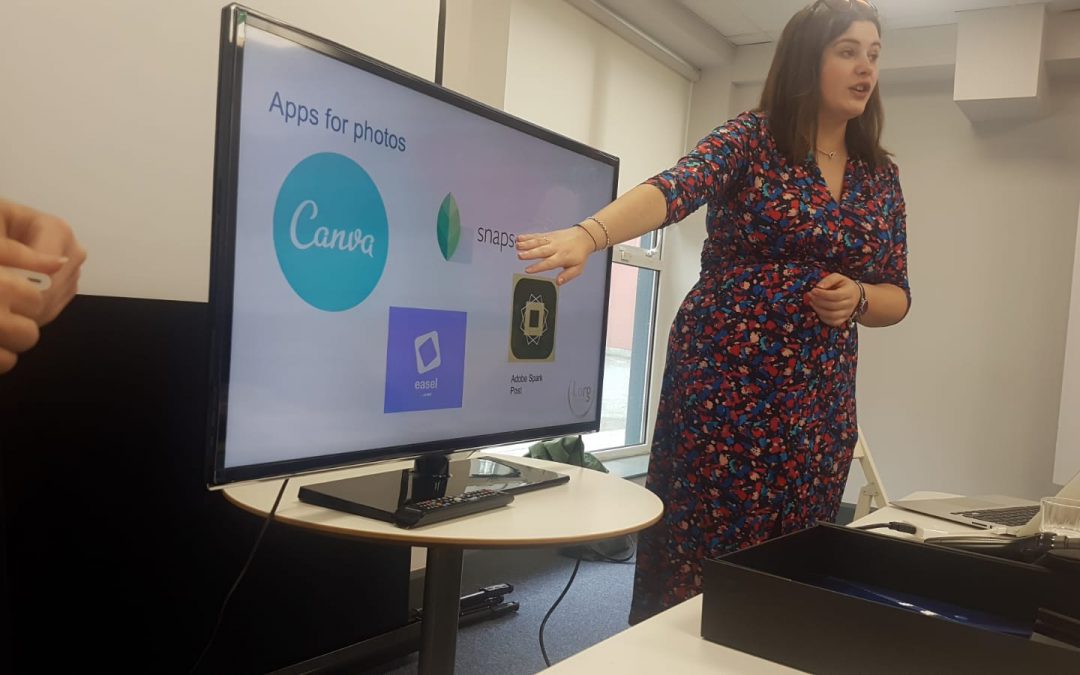 And we are off! Bags were packed, passports double-checked, laptops taken out of airport luggage for screening, buses departed, sandwiches eaten on the go, and Galway arrived in. Theatre makers, researchers, and project partners from all over Europe arrived to the western part of little ol' Ireland, on a unusually sunny Thursday morning, to begin the first step of a new adventure in theatre learning, sharing, and collaborating, and there is excitement in the air.
First we kicked off with the intros, and the range of talents, practices, and ideas started to become clear. We filled in some questionnaires, were talked through the house keeping, and so it begins. The 10 International Artists took turns introducing themselves, and we're a mixed bunch!
I (James) started the ball rolling with a chat about the work I do with my company Brú Theatre, based in Ireland, bringing in some masks for us all to have a play with. Next we had Dimitri, a mime, writer, and director from Russia, via Paris, who showed a great video of a mime performance involving many different technologies, sensor motion, live camera, interactive visual objects, and lets not forget that lampshade.
Next theatre maker Anne, from France, talked us through her many projects from punk performances, to mass ghost stories to her new project called 'Bullet' using many voices on multi pedals, which sounds great. We then did some free drawing of things we will NEVER make, which got Yusef thinking about making the unmakeable while we Make a Move onwards to lunch.
After some delicious sandwiches, from the powerhouse that is McCambridges, we heard from Rodrigo's love of Tango while in the toilet, and watched some amazing videos of his 'Roof' performances in Amsterdam and Italy before Eva, from Austria, here with Worklife Balance talked us through her site specific work and we all sat in a circle meditating aloud on why we need other people in this world. More to come on that later in the process.
Our first official workshop on Digital Marketing with Lorg Media was fun and informative, as we learned about the joys of Facebook and how to shoot and edit an interview using many different shots. Deise and I will be trying our luck later today as we try make sense of some pub footage last night. A walking tour of Galway and a lovely dinner finished us off for day one, and everyone is definitely glad to be here!
Day Two, and we are feeling fruity. We kick off with Nicole, from Brazil via Paris, chatting about her process, leading first with character creation before narrative kicks in and showing us imagery from her upcoming show based loosely on the Tempest, but with Robots, which sounds great. She runs a workshop on mime, enlisting Sebastian as her example of exemplary mime, and he nails it! Deise, again from Brazil but this time residing in Oslo, is next, a collaborator with ACTS who presents great images of her past work including 'I am Nina' and an exercise in drawing anything we want in bright colours that will inform a project later in the week, watch this space. Yusef is up next, from the Lebanon via Barcelona. He is a mime, acrobat and performer and here as an individual, but also representing Totem Arts. He shows cool videos of his past work and then we get into the space, trying to count to 30, which is harder than it sounds, and playing mime guessing games with random sentences. French Sebastian finished the day with a chat about the mime work his does with his partner in Platform 88, before splitting us into pairs to mime a poem. Dimitri and I simply can't find the words, Nicole and Rodrigo keep crashing down, Eva's a mountain before Anne gets her gun, and Yusef and Deise take things slow.
Our second workshop is all about Blogging. We start with a list of things we want, and by the end of the 2 hours we are happily convinced in the power of the blog and of getting the small things right. Then it's time for the Local participants and Experts to arrive, and it's great to see so many of us in the room, even if the ferry has been cancelled and we are stranded in Galway for the night. A few calls and the rooms are booked, and the pints of Guinness are flowing!
Onwards and Upwards to the island we go!