created and performed by
Julianna Bloodgood (Wrocław),  Anne Corté (Paris), Johannes Schrettle (Graz), Sanna Karoliina Toivanen (Barcelona), Janaina Tupan (Montpellier), Sendi Bakotić (Rijeka), Andrea Crnković (Rijeka), Nika Korenjak (Ljubljana/Zagreb), Maja Kovač (Zagreb), Kristina Paunovski (Rijeka),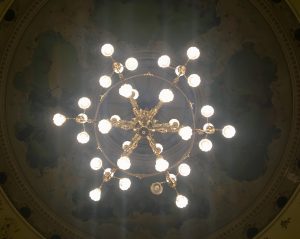 JOHANNES
we entered that space
and  we had the impression of a crumbling society, that is still dancing –
facing a catastrophe – a war, an iceberg, a flood, an epidemic,
and then the question was if we should keep dancing, in projects like this, looking quite okay, moving quite elegantly, saying smart things about culture and politics and environments, or if not, what else should we do, anyway we decided to go on with the images that we had in our head
a half rotten meal, a pick-nick, a poet on a balcony, forcing everybody to listen to his poems and dance to his music
that poet was gabriele d'annuncio
italian writer, journalist and dictator of the free state of fiume (RIJEKA),
1919 to 1920,
but that was in his late years,
when he was our age, he was nothing like a dictator, he was broke and he was a poet and then he caught this strange fascination for the army with their airplanes and bombs and uniforms,
and he wanted to wear one himself,
feeling a deeper meaning in his life, when wearing a uniform
a greater cause then just words or music,
he also wore a curly mustache and sometimes an eye patch, after an accident with an airplane in WWI,
and he got things mixed up sometimes,
like which dates it was, which people he met, which emotions and feelings he had, but that uniform gave him security.
and when we were walking through this old opera
we were thinking of this,
but then we had to make decisions,
we had to put the lights,
we had to put the speakers,
we had to talk to technicians, to designers, to musicians, to journalists, to politicians, to tourists,  to people that we met in bars, to our parents, to our kids, to a guy that we met in the forest,  and they asked us what exactly we were going to do,
and we just had a list of images
that we wanted to see
and a list of ways of dying
and a list of last meals and of last moments we would like to have,
and on the next day we met an old man in a café and he told us his story, which we did not understand because his english was broken,
but as a young man he had visited that place quite often, we think,
and as we were still not exactly knowing what to do, we thought it could be funny to ask him to join our performance and do a little dance,
and then he really came
JANAINA
actually that was kind of a funny moment
we had agreed that we were going to meet in front of the opera in the morning and then we kind of forgot
and then we arrived some 15 minutes too late
and he was already inside
he knew somebody that had the keys to the building
anyway
we asked him if he was ready to dance for us
and he was.
and then he danced and this was very interesting
and also very sad
but in a good way,
it was definitely very touchy.
and then he told us that us he used to be acting in national television.
actually we are not sure if we got this right
because of the language and stuff
and also at that point we were not sure if he was exaggerating or not, somehow we felt that he was making it up,
but we were not sure,
and we found that really fascinating,
but at the same time it started to be a bit strange
he had a strange smell, frankly,
and after his dancing scene he was quite sweaty,  and he said he felt a bit hot so
so he started to get undressed
and he did not stop until he was completely naked,
and we were all sitting at the bar then and when he was completely naked
he crawled on the top of the bar to lay down there, in front of our faces, so that we could really smell his skin, that was towards the end of the rehearsal, the technicians and the housekeeper had already gone home, it was just us here in the building and we did not really know what to do,
because we had already tried out a lot of different ideas, images and sounds, most of them circling around that fascinating contrast of life and death, and art and destruction, and we had this vine that we had bought for a scene that we wanted to try out, it was a very cheap italian red vine,
and we brainstormed, and we kind of poured it over that guy's body and then started to lick it from his skin and he had his eyes closed and started doing weird noises, that sounded as if he was falling asleep but at the same time his body was getting into wild movements, and we used all the red vine we had, which was two almost entire bottles, and we licked it from his  body and it got mixed with the liquids from his skin,
and that somehow made a different taste, and also we got a bit drunk, so after something like 20 minutes we all got naked and we turned the music a bit louder because we all had started to exhale funny noises,
quite small but uncontrollable,
and they got louder when our bodies got a bit hotter,
and when we started taking turns licking and blowing this man at the bar, it felt very hot, almost like melting, like we could not really tell which parts of which bodies belonged to which face,
and which genitals,
which skin and emotion and body fluids,
and it is hard to say how long that took us,
because we did not quite come together,
I mean,
we did not come simultaneously
it was one after the other in a time frame of about 15 minutes or something,
that we had several orgasms,
except him, he didn't, and that made it kind of hard for us to proceed,
because it was hard to focus with that naked body in the space, it was a very old body but in the same time it reminded us of a small child,  maybe a dwarf, and we had to focus on our work,
which was to try and give that space back its dignity, and also an appropriate function for this city, that really lacked cultural spaces,
and also we wanted to earn money with what we did
ANNE
we wanted to earn money, because we were in a moment of our lives where in a way we felt entitled to have a little bit of rest sometimes, to sleep in real beds, and to eat real and healthy food, and once in a while have a picknick with our friends that also were at that moment in their lives,
have vine and enjoy the silence of a weekend afternoon, and then maybe start dancing, out of the blue,
as if that was what people do in this moment in history,
when they have picknicks and talk about disasters:
dance,
but still there was this strange feeling,
as if we had done something wrong,
or broken a low that we did not really understand, or broken a glass, but did not tell anybody and then all the people were walking around bare feet, or as if we had killed a dear, in a forest, talking on the phone while driving,
or as if we had been drinking with a stranger in a bar, talking about our dirty secrets till 5am and saying goodbye he had mentioned that he was a pilote and on the next day we had seen the news of a horrible plain crash, killing 45 people, including 7 children,
or as if we had eaten something really toxic, some sandwich with a poison that was going to effect our body very slowly, no antidote.
we could just watch it do its work in our body,
till the end,
but before that we had  to do
something really meaningful, that would really dialogue with that very space,
this very space here, and also this very moment in time,
this september 2019,
the last days of late european capitalism, but that idea seemed pathetic to us,
pseudo-poetic, superficial, desperately trying to be special or to look interesting, or funny
and we will stop here.
striptease show…