Târgu-Mureș – Local & Regional Artists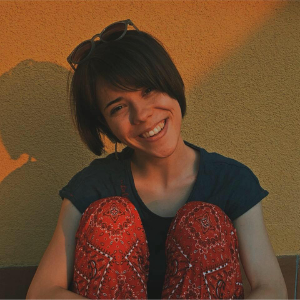 Delia Dușa is a sophomore student in Directing at the University of Arts, Târgu-Mureș. She is very interested in movement theatre and she would like to study more different European artistic practices and train in physical theatre, to meet international participants and make an exchange of skills and knowledge.
Anette Marka studied Acting at the Faculty of Theatre and Film, Babeș-Bolyai University, which she graduated from in 2019. She has acted in several plays (both within an academic and a non-academic framework) and films . She has also attended several storytelling and movement workshops.
Aletta Zselyke Kenéz is a Choreography student at The University of Arts, Târgu-Mureș. She is a professional figure skater, and was also a professional athlete for 15 years. She holds over 40 medals for her sports activities. She has also worked with children, teaching them figure skating and thematic dances.
Otília László has worked with the András Lóránt Company and she has attended movement workshops with with Andreea Belu at "UAT's next?" festival. She is a Choreography student at The University of Arts, Târgu-Mureș. Her skills are: Contemporary dance – Graham technique, Limón technique, Release technique, Free dance and Classical ballet (beginner level).
Pálffy Zsófia is a playwright, theatre activist, a graduate of the University of Arts in Târgu-Mureș and of Karoly Gaspar University in Budapest. She is a member of the Andras Lorant Company, which was established by the choreography teacher, Andras Lorant in 2014. The NGO profile is contemporary dance and physical theater with different classical styles included also (flamenco, Argentine tango, etc.) The company dancers are involved in projects within and outside of the country, most of them having experience at contemporary dance theaters of Budapest.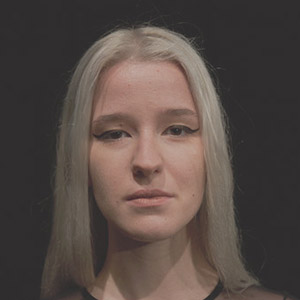 Miruna Lazăr has just graduated with a college degree in Acting from The Babeș-Bolyai University in Cluj-Napoca. She works in collaboration with the Regina Maria Theatre from Oradea. She has recently worked on a one-woman show in which she wanted to discover the backstage effect. The show combines classic theatre (the script combines monologues from A Streetcar Named Desire and Who's Afraid of Virginia Woolf) with physical theatre. The show premiered during her graduation festival and she also had the opportunity to present it in an independent theatre (Reactor) in the summer. She has also taken part in a number of workshops, mainly contemporary dance and contact improvisation ones.
Ioan-Antoniu Nica was born in 1996. He is a junior student in Directing at the University of Arts in Târgu-Mureș, Romania. He has attended several acting and improvisation theatre workshops and has directed, so far, two plays, one of which, "The Lesson (Another Brick In The Wall)", was based on Eugene Ionesco's work and the music of Pink Floyd. He is also a member of the Multimedia Centre Studio Act, an independent theatre founded in Oradea, Romania, in 2016.
Adél Püspöki is a member of András Lóránt Company, Târgu-Mureș. She studied design and
design management, working as graphic designer and set designer. Now she is part of the
dance theater company's management team.
Răzvan Târnovan is 34 years old and he has just graduated from the Acting Department at Babeș-Bolyai University, Cluj-Napoca. He started Acting when he was 30, and before that, he worked at IT companies in Cluj-Napoca. During his university years, he was been involved in 5 theater productions and acted in 2 short films. He is interested in movement theatre and filmmaking.
Although she is still a Theatre Directing student in Cluj-Napoca, Irisz Kovacs is trying to incorporate a sort of bodily translation of meaning in any scene or exercise she directs, and to visualise movement in her work as a photographer also. Her last directing exam was a (very) free adaptation of Kurt Vonnegut's Slapstick, set in a kids' pool, filled with warm water and green apples, a sort of theatrical poem illustrated through the body's contact with water. Last year, she created a domestic performance called "Casting Call", where she invited strangers for a night at her house, to be interviewed in the position of her friend. After that, she directed a one-man-show in Bucharest, based on the story of Daniel Keyes' Flowers for Algernon, a very physically- demanding, almost acrobatic approach of a touching story. Right now, she is directing an all-girl adaptation of "Medea" by Euripies.